Defense Class with Rob Preece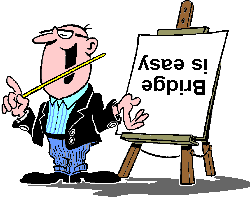 Bridge Classes Starting April 5th
Bridge 1 through OLLI on MONDAYS, beginning April 5th for 8 consecutive weeks at 9:30-11:30. $15 Tuition.
Bridge 2 through Bridge Brigade on TUESDAYS, beginning April 6th for 8 consecutive weeks at 9:30-11:30.  Cost $40. 
We'll meet each Tuesday on Zoom.  This link will open about 9:15 for chat and questions.  Click the Zoom link above and wait to be admitted.  The hands will be played on SharkBridge.  If you are not registered with Shark, go to  sharkbridge.info  Choose Mac or Windows and download.  You will need a nickname or username from you for Shark
Send check to Sharon Biederman: 1708 Bayou Way, Seal Beach, CA 90740
BBO Rainbow Teams May 3-9
Do you want to play online but don't know how?   Click on the help button  and we will contact you. 
Or you can contact us at (714)624-3455
If you would like to purchase the Mike Lawrence Defense CD at the discounted price of $25, please send a check to:
Sharon Biederman
17008 Bayou Way
Seal Beach, CA 90740
The Long Beach Bridge Center Board is part of the on-line Alliance Bridge Club for BBO games.  Money not being paid to the ACBL or Bridge Base will come to our club.  Players will earn ACBL master points.  Check out  Alliance Bridge Club site for instructions and results.

If you would like to donate directly to the club please send a check payable to "Bridge Brigade"
Sharon Biederman
1708 Bayou Way
Seal Beach, CA 90740
. (EIN #81-4460773)
GoFundMe is launching our COVID-19 Small Business Relief initiative to help support local business. Donate today to help our club apply for a matching grant from the Small Business Relief Fund. #SmallBusinessRelief