Join us for our Awards/Unit game on Sunday, March 26th at 12:30pm.
Dessert will be served! Open $10, 0-499'rs play for $5!
Join us for our new Classes!
Monday March 13th Advancing Player Workshop – The topics will include some conventions, techniques, defenses, or any other topics that the class would like covered.   The classes are intended to be challenging and will introduce concepts that are not being covered in the other classes at the club.  Lessons will last 30-45 minutes.  After the lesson we will have an ACBL-sanctioned game that may include a couple of boards dealing with the topic while the rest of the hands will be random.  Only players with less than 750 MPs will be able to compete for points in the game.  
Instructor:  Dalia Hernandez, Mondays at 6:30pm, Cost:$10/class
April 3rd  Bridge 1 Beginner Bridge –  Learn to play bridge the modern way with 2 over 1 bidding.  Topics include intro to bridge, opening a major, opening a minor, no trump, Stayman, transfers, opening leads,attitude, and more.
Instructor: Hank Dunbar, Mondays 9:30-11:30am, Cost $40 for 9 weeks.  
Apr 4th  Bridge 2 – In Bridge 1, once you open the opponents are barred from bidding. Bridge 2 is more like real bridge. If the opponents open , you try everything you can think of to get an interfering bid in. Topics include overcalls, takeout doubles, negative doubles, preempting, strong 2 ♣️ openings and a look at slams.  
Instructor: Hank Dunbar, Tuesdays 9:30-11:30am. Cost $40 for 9 weeks
Join us for supervised play Mon-Wed at 9:30am
Live Play at the Bridge Center
Games start at 12:30pm.  Requirements below:
Vaccine card required. Bring to club,  or email manager@longbeachbridge.com

Masks are no longer required but are recommended for vaccinated people at Long Beach Bridge Center pursuant to new order of the Long Beach Health Department.  The order recommends masks for fully vaccinated invidivudals:  "Fully vaccinated individuals are recommended to continue masking in indoor public settings and businesses when the risk may be high, such as in indoor crowded settings with poor ventilation."

If  you need a partner for the day of game, please contact us at 562.498.8113 or email manager@longbeachbridge.com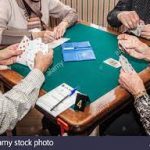 Bridge for players with 0-199 points 
We offer Supervised Play on Monday, Tuesday and Wednesday from 9:30-11:30am.  Players with 0-199 points may play.  $5 per session.  Proof of Vaccination required!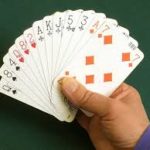 If you would like to purchase the Mike Lawrence Defense CD at the discounted price of $25, please send a check to:
Sharon Biederman
17008 Bayou Way
Seal Beach, CA 90740
The Long Beach Bridge Center Board is part of the on-line Alliance Bridge Club for BBO games.  Money not being paid to the ACBL or Bridge Base will come to our club.  Players will earn ACBL master points.  Check out  Alliance Bridge Club site for instructions and results.

If you would like to donate directly to the club please send a check payable to "Bridge Brigade"
Sharon Biederman
1708 Bayou Way
Seal Beach, CA 90740
. (EIN #81-4460773)
Log on to BBO and select Competitive/ACBL Virtual Clubs and search for VACB905265.  Select 0-99 or 0-20 All Western 99er NiteClub
4:20PM  Registration opens on BBO for 0-20MP game.
4:30PMRegistration opens on BBO for 0-100MP game.
6:20PM Game Time – Head to BBO and look for All-Western 19ers.
6:30PM Game Time – Head to BBO and look for All-Western 99ers. 0-20 players welcome to play in thia game too!
8:00ish  Z

oom "Post-Mortem

" for both games. Featuring teachers from the 4 sponsoring districts who will walk you through the boards you just played and answer your questions.
GoFundMe is launching our COVID-19 Small Business Relief initiative to help support local business. Donate today to help our club apply for a matching grant from the Small Business Relief Fund. #SmallBusinessRelief